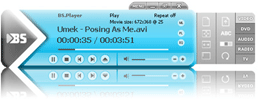 All new audio & video player but still FREE
Proceed to the download section and downloa your player now
Save your audio and video files – into the BS.MediaLibrary™
Are you looking for a certain book? Just go to the library! Looking for a multimedia file? Even easier – just open the BS.MediaLibrary™. It enables you to search easily through all the multimedia files on the hard drive of your computer.Do you want to listen to a certain song or view an old video file that you haven't seen for a long time? The BS.MediaLibrary™ sorts all your audio and video files on the hard drive of your computer according to the criteria that you set. You don't know the name of the song or the movie, but you know which genre it is? So look it up by the genre category – it shows you the selected genre files only – and you can give in to the pleasures of your content.


Favourite songs, movies... are just a click away!
The BS.Player™ 2.78 does not only play, but with the BS.MediaLibrary™ it also manages your multimedia content.Do you wish to create your own media compilation? It is as easy as it gets. You can sort the content in playlists, which enables you to work with media files faster and more easily.

Playlists may be created through the BS.MediaLibrary™ module or directly through the primary BS.Player™ 2.78 module.