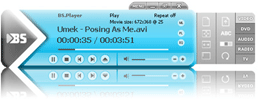 All new audio & video player but still FREE
Proceed to the download section and downloa your player now
What is BS.Player™?
If the answer to the above question required one sentence only, it would be something like this: "BS.Player™ is a Windows® video and audio player, which supports the playback of all types of multimedia files, such as aac, aif, asf, avi, WebM, DV, m1v, m2v, mov, mpa, mp1, mp2, mp3, mp3, mp4, mpv, ogg, ogm, QT, rm, ram, SWF, vob, wav, wma, wmv...., with a special focus on video and WebM." Though if you really want to learn about our player, you will surely be interested in getting to know about some other aspects of it as well.


A multimedia star is born
Where did the BS.Player idea come from? Back in 1999, an IT science graduate Boris Voglar tried to play a video file on his computer. Those were the days when most media players only supported the playback of audio files but not video, so he decided to make his own player. And his goal? To create a program that would play all types of multimedia files and could be used by any user, be it a lay user or a computer expert. A few months later Boris Software player was born - in short the BS.Player™, thus being one of the oldest software video players in the market. Only a year later the BS.Player™ found its way to the worldwide web and caused immediate excitement with movie enthusiasts around the globe,

Our multimedia player has been constantly upgraded and consumers hints and wishes always taken into account. Positive international feedback gave us a fresh input and in 2001 three old friends founded the Webteh company in a joint effort. Our field of expertise? BS.Player™ free player, online store solutions, domain registration, extensive web sites design and programming for large projects.