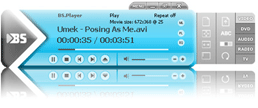 All new audio & video player but still FREE
Proceed to the download section and downloa your player now
The best multimedia player – you said so yourself!
The BS.Playe has always been easy to use and as technically perfect as possible. You have proven that the above statements are true. The BS.Playe has at least one huge, yet simple advantage – it simply WORKS!It also uses the processor and RAM very efficiently, and even those with slightly less capable computers can still enjoy quality video playback and perfect sound.Which file formats does it support?

Video: WebM, avi, mpeg 1, mpeg 2, xvid, 3ivx, ogm, matroska, mkv, asf, wmv, DV, m1v, m2v, mov, mp4, mpv, QT, rm, SWF, vob...Audio: wav, mpa, mp1, mp2, mp3, ogg, aac, aif, ram, wma, pls, m3u ...


The best tool for managing and reproduction of multimedia content
Since its beginnings, the BS.Playe has truly been one of the best video players in the world. With the new version we wanted to go even further. We wanted to make the best tool for managing and playback of all multimedia contents: video, audio, TV and radio programmes (analogue and web-based), teletext, podcasts and webcasts, and live-streaming application.We are proud to say we have done it, with the new BS.Player 2.78


Have you noticed anything new? We call it a smart look
We are well aware of the fact that the quality of a movie player is much more important than its fancy look, but still. You are looking at the BS.Player with a new, prettier, more modern and most of all more user-friendly look. We call it a smart look as it enables easy access to all most frequently used features and actions.With our users in mind, from computer enthusiasts to little less skilled in computers, we created a modern look which sets new standards to such application designing and enables easy and intuitive use of the free player.